About VIP
We Capture Moments that create memories
A Third Generation Family Owned Business
For over 70 years the Hayes family and their team has taken millions of photos capturing the memories of students, athletes, families, professionals and special events. Our years of serving the surrounding communities has taught us that photos are a way of seizing the moment and preserving history as it is being made. Photos are what keep the memories alive, no matter how much time passes. We love sharing the story of how it all began and the milestones we have accomplished along the way.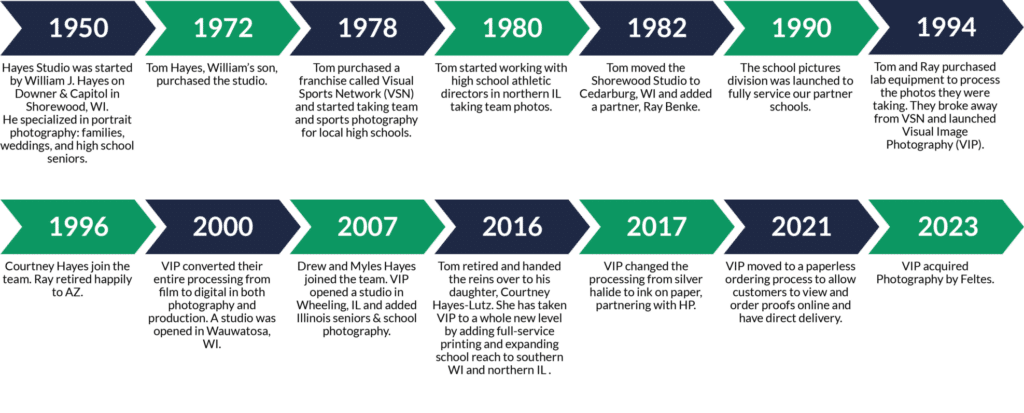 Professional
Full Service
High Quality
Community Involvement
One of Visual Image Photography's most vital missions is to be successful enough in our business ventures to afford us the opportunity to nurture as many local and national charitable causes as possible. We remain extremely grateful to our loyal customer base for our ability to support many worthy causes throughout our thirty-five year history.
Below are some of the organizations that we contribute our time, talent and financial support to:
Camp Hometown Heroes
Ozaukee Family Services
Stars and Stripes Honor Flight
Vince Lombardi Cancer Foundation
Ronald McDonald House
Visual Image Photography is a member of the following trade organizations:
Better Business Bureau
Rotary International
SPAC—School and Sports Photographers Association of California
Founding Member of School Photographers of America
VIP is a Women Owned Business.
Feeling the Love
"Feedback is the breakfast of champions." —Ken Blanchard
Your feedback is extremely important to our mission of creating beautiful and lasting memories.
Click here to leave a Google Review.
Everything went very well. We were all impressed with how quickly things went.
It was awesome in every way. And right on time! Efficient, friendly, and professional.
Thank you for being ready and organized and making our families with "little ones" feel relaxed.