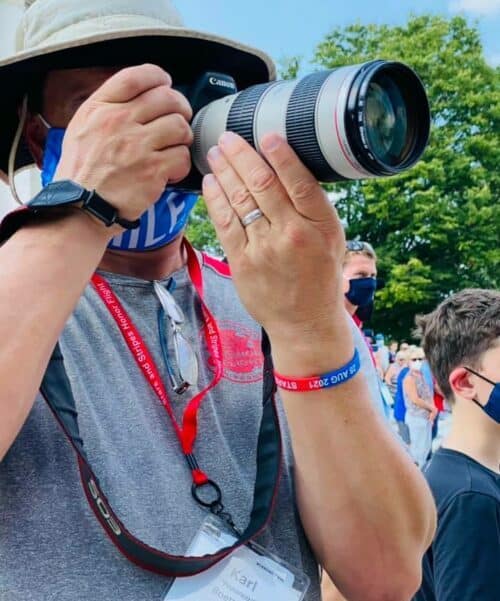 Why VIP?
Because your memories are our #1 priority! Capturing the defining moments of children and families is what we do best.
VIP is a 3rd generation, family- and woman-owned organization providing full-service photography to southeastern Wisconsin and northern Illinois since 1950.
We provide a wide variety of photography services, from traditional, timeless portraits in the style of the old masters to exciting, cutting-edge images. Most importantly, we stand behind all our photographs and products by offering a 100% satisfaction guarantee.
Feeling the Love
"Feedback is the breakfast of champions." —Ken Blanchard
Your feedback is extremely important to our mission of creating beautiful and lasting memories.
Click here to leave a Google Review.
I'm so happy my son's school decided to choose Visual Image Photography. His school pictures came in a beautiful booklet that can also be saved for keepsake. The photographers that came to the school were very nice and helpful too. I will definitely recommend this photography company to others.
I just ordered banners for the seniors on my son's soccer team. Not only do they look awesome, they were shipped to me in 2 days. I highly recommend them.
We had a great experience with our son's senior pictures at VIP in Cedarburg; from Becky who set up our session and answered all our questions, to the amazing photographer Steve. My son is not a fan of having his picture taken, and Steve was so good at making him comfortable! The pictures turned out amazing, we couldn't have asked for better service all around. Thank you!
Wonderful experience at VIP! New facility is nice and love the new location! Staff is warm, welcoming, and extremely professional. My senior daughter enjoyed working with Ava. Ava took her time photographing and put care into every shot she took. Excited to see the results! Thank you VIP for a great experience.
We had our senior photo session a few days after they opened. It was really quick and efficient. We arrived and soon after my daughter was off for her session. She didn't have a wardrobe change but we had a gown add on. The new place is clean with good ambiance. There were couches for parents to sit on and wait. We recently received the link for the photos and are very happy with how they turned out. All in all a great experience!
Highly recommend VIP Vernon Hills location. We booked my son's senior pictures here and they did an excellent job! The facility is fresh and new with a lot of natural light. The photographer was friendly and engaging and my 17 year old said it was fun! Will definitely use in the future for full family photos.
We did my daughter's senior photos here and it was such a great experience. The studio is huge and the staff is super friendly and helpful. Love that the changing rooms have extra supplies to touch up if you need (i.e. hair spray, bobby pins, etc.) The turnaround time on the proofs was also incredibly fast and can't wait to see the final product. Highly recommend this studio.
Wonderful experience!! I went for my senior photos and not only had an amazing photographer, but the entire session was quick and comfortable!
Great Senior Picture experience. The facility is amazing with changing rooms to allow for final touch ups. The staff was friendly, professional, and very creative. The pictures came out great. Thank you
The Vernon Hills studio is a great space and has such friendly service. Appointment was on time as scheduled. Our photographer Casey was excellent! Photos turned out very nicely.
My photographer made me feel so comfortable in front of the camera! I loved all the backgrounds and she took the time to get everything right.
I decided to do some dance poses for part of my senior pictures and my photographer was determined to get the perfect pictures. I wanted a picture of me doing a leap and she did not move on to the next pose until she got the best shot of the leap 🙂 very happy I decided to book with VIP!!
Awesome experience at the new VH studio. Great photographer, easy steps to follow and pleasant office staff.
Fantastic service from front desk to studio! I cannot overstate just how welcome the staff makes you feel. And in addition to fantastic staff the quality of work is superb and deserving of all the praise in the book.
Great place to take photos. Our photographer was amazing and was able to capture beautiful pictures!!!
Great overall experience! The photographer was wonderful during the session, and the pictures look great.
Our photographer was awesome, she was so friendly and made the session fun! We got the photos back the next day! We will definitely be going back.
Wonderful senior portrait experience. The staff was friendly and the photographer easy to work with.
The entire experience was seamless. Very professional staff and we could not have been more pleased with how the photos turned out.
As the yearbook advisor of Wauconda High School, I can say that Visual Image Photography, Inc is a joy to work with. Their photographers go out of their way to make sure the photos taken are what we, the customer, want. They go above and beyond to make sure to get the best shots. The customer service aspect of VIP is amazing. I telephoned at 6 pm on a Tuesday night with a request and had an answer and access to the information I needed within a half-hour. Another time, there was a scheduling change made by my school that I was not aware of until the night of the event, and our customer service representative came out herself personally to shoot the event because she was available. Very few other companies I have ever worked with have provided the customer with such attention and care. Everyone at VIP goes out of their way to make sure our school is completely taken care of in every aspect from events to sports to senior portraits. I would recommend VIP to any school.
Wheaton Park District turned to Visual Image Photography when we had a bad experience with another company and have never looked back. We first started with our baseball/softball program. They did such a great job that travel soccer, football, cheer, lacrosse, dance recital, swim team, and preschool have also signed on with VIP. They are professional, friendly, flexible and excellent photographers. I highly recommend Visual Image Photography to anyone looking for a photography company.
When I took over as the Director of Student Activities six years ago we contracted services of three different photography vendors to cover different events. The quality of VIP's product and services stood out above and beyond those of the other vendors we were working with. Noticing the great quality and superior customer service I consolidated all services to VIP. Switching to VIP has been one of the best decisions I have made. I have never fielded a complaint, I have only received compliments. In addition to their superior quality, their customer service is amazing. They are very proactive and supportive of any ideas or suggestions. I look forward to continuing the relationship that Stevenson has built with VIP for many more years.